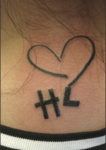 In October of 2011, I got this tattoo done at Two Thumbs Tattoo in Ewa Beach, Hawaii. It was a spur of the moment tattoo (like most tattoos on my body) BUT I had actually designed this one myself.
This tattoo is a reminder of the word that people used to describe me, HEARTLESS. It was a word that I also believed defined me, but it is a word that I now believe helped shape me into the person I am today.
I chose to grow. To become someone, who wasn't defined by the negativity and assumptions of the world.
That's why I started Heartless Company Clothing (7 years later) to show everyone that we can turn these negative words and assumptions into something positive. That we can CHOOSE to be more. CHOOSE to grow and not be held back by simple words.
This brand is to help represent not where we come from but what we can become and where we can go.
___________________________________________________________________
Ariel Canosa, Owner of Heartless Company Clothing.